The show will be held April 1-3, 2011 with a schedule that will be shaped by the Artists/Designers, Authors, and performers that come together for the show.
Below is the current draft of the in-process schedule.
Schedule:
Friday April 1 (no foolin')
5pm doors open, readings from authors and performances
7pm opening reception with artist meet
and greet
9pm Nerdtron Studios after party,
$5 before 10pm, $7 after
Saturday April 2
2pmdoors open with author readings and artist discussions and creative
commons area open
6pm live performances
8pm fashion show followed by meet and
greet with designers and models
After after party with Nerdtron Studios
Sunday April 3
Noon doors open
Independent Film showings
artists' discussions and panels
creative commons area open
Charity Auction closes
5pm show closes
Location
Diamond on 16th (old Diamond bar)
712 S. 16th Street
Downtown Omaha



View Fashion in Detritus in a larger map
About the Mural inside The Diamond on 16th
This mural was painted by local artist Gerard Pefung. Born in Cameroon, Gerard brought his rich African traditions and cultures to Omaha, when he moved here in high school.
He continues to develop as an artist and his bold work is making an impact in our art community. His is a career to watch.
Click here to visit his web site.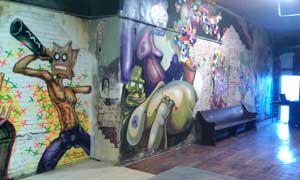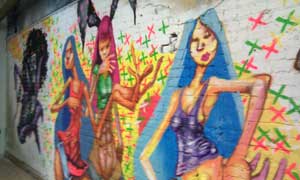 ---
More about the theme
Art and Fashion created from
forgotten trends
discarded artifacts
old notions
lost trades
the broken
re-imagined, combined, and/or transformed.
The dominant looks of the last century came from an amalgam of taking the styles of the past and adding their own touches to it. Or taking the things people thought were all ready destroyed or past their prime and invigorating new life into them.
Creating art and fashion through a mashup of the old, new, and never-before seen in the eyes of the artist and designer by adding their own personality and touch to these things to create something exciting with it.
So in short, slam some things together and go nuts. Art often works best when the round holes of one genre are introduced to the square pegs of another.
Fashion in Detritus is our attempt to light a few fires, open a few minds and hopefully bring together some creative individuals. Those ready to make something new from the remains of what is currently cast aside.
Perhaps a bastion of creativity for the next thing to come from the streets.
---
The first in a series of themed art shows featuring local and regional talent. This is a show of art and fashion from the items and people that have been discarded.
While many may break art into high and low, the true reality of both the art and fashion scenes has been this; both work their way up to the high world from the dark ends of the street, The places where people invent new concepts simply out of need and necessity.
If you want to find where the next major cultural movement will happen, don't look in the exclusive clubs at the trendy end of town. Instead look for the creative class in the city's alleys.
In the past they have given us Jazz, Rock and Roll, Punk and Hip hop, and many more cultural movements.
Now, we aspire to plant a seed and start something here, in Omaha.
---