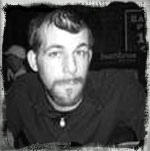 Kevin Steward the owner and designer of the Threaded fashion company, is an established member of the local fashion scene as his designs have walked in Omaha Fashion Week for several seasons and other events.
Kevin brings his experience and enthusiasm to the Fashion In Detritus Saturday, April 2nd show as our Fashion Show Director.
Catch his work at Omaha Fashion Week Spring 2011 on March 19th, at the Nomad Lounge.
---
Fashion in Detritus is organized by Eventgelical Productions, a local not-for-profit organization.
Started by two artists, with the mission to hold a series of events, each with a different theme, featuring the work of local and regional artists.
They are dedicated to making art events happen in the greater Omaha area. "Spreading the good news" of Omaha's art scene and other creative endeavors through shows, performances, and networking.
Dave Nesbit and Ann Myers are both people with art backgrounds who decided to put their skills to use rather then let them go to waste. And urge many others to do the same!
They thought it would be interesting and refreshing for the Omaha art scene to create an event that was a little different from the standard gallery opening. So dipping into their backgrounds in art, music, and event coordination, they decided to go out amongst fellow lesser known area artists, designers and bands, pool their meager funds and create an event to spark some energy back into the scene.

| | |
| --- | --- |
| | Dave Nesbit is primarily a photographer and video editor with an enjoyment of making multi media art installations and is now experimenting with painting as well. |
| | |
| --- | --- |
| Ann Myers brings 10 years of event coordination experience and a desire to expand her current art and graphic design work. | |
They are recycling old ideas and creating a new place and re-imagined way to share art and creativity in the Omaha area.
Questions? Thoughts?
We'd love to hear them
---
Dave came up with the idea of creative events and began to pound pavement, gallery to gallery to do some research.
A meeting with William at Polyester Gallery pointed us in the direction of doing our events in the style of a "Phantom Gallery".
In short, Phantom Galleries, use unoccupied store front space to put up visual displays or hold events. Great for artists, because they get to show their work, great for the building owners, because it activates their space and gets eyes and traffic in their doors.
Google it and you'll see it's a fantastic movement, mostly taking place on the coasts right now.
So, more research, including more foot-to-concrete time around downtown Omaha to find space for this event and the future ones.
We have made some great contacts, including the fine folks at the Diamond on 16th, the old Diamond bar, where we will be holding the first event.
---