After the darkness of winter the world stirs, and finds color again, along with it rise our dreams.
On May 4-5. 2012, Dreaming is an Art, Fashion, Film, and Performance event, featuring local and regional talent, with the goal of sharing their concepts of the theme Dreaming.

The open call for artists and designers runs through January 28, 2012
---
Please join us in another celebration of local and regional talent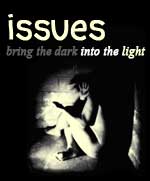 ISSUES- bring the dark into the light, September 16-18
---
Dave Nesbit – Fashion in Detritus from Matt Patterson.
More about the next show at TellMeYourIssues.com
September 16-18, 2011
---
$400 was raised through the Art Auction for the Methodist Hospital Foundation Charitable Giving Fund, to help those struggling with medical expenses.
Thank you to all the artists who put pieces on the Auction Block for the cause!
It's a great start and we look forward to the next event!
---
Here are some photos from the event…

We'd love to share more, please send us links or attach photos to email.
Thanks!
See additional "Buzz" around the event.
---
Wow, the weekend went fast and it went well!
In no particular order…
Thank you to our wonderful friends and the Nerdtron Studios crew who came out to move mountains to get it set up.
Thank you all the volunteers who stepped up to work the events.
Thank you to all the Artists, Designers, Hair / Make-up artists, Models, DJs, Authors, Mummers, who filled the event with their creative talent.
Thank you to the Diamond on 16th and it's crew for being so supportive and flexible.
Thank you to Le Voltaire French Restaurant, Death Grip Electric, Inc, The Omaha Film Festival, Quality Brands, Barleys Bar(and their great bar tenders!), and Shramek Security Services for taking a leap of faith and being our sponsors.
Thank you to Kevin Steward for coordinating the fashion show.
And to anyone I may have missed, please know we appreciate you, please give us grace as our brains are shot. Thank you Thank you Thank you!
Look for pictures soon!
---
See the listing of the films being played on Sunday, April 3.
Film Block 1 1:00pm
Film Block 2 2:30pm
Many Thanks to the Omaha Film Festival and the film makers!
---
We'd like to thank the whole crew of The Morning Blend for having us on today.

Thanks also to d0ll clothes designer Chessna Fernald and model Hillary for appearing with us!
---