About...




Call for...




Info for...




Questions? contact@fashionindetritus.com Dave @ 402-968-5963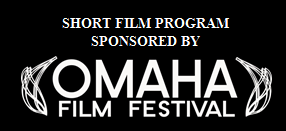 1pm:
BYE
BYE
BLATT
(6:30 min)
Directed by Mike Machian
Several people who spent their youth going to or working baseball games at Omaha's Rosenblatt Stadium share their thoughts on the 'Blatt's last season.

SIDEWALK
CHALK
(3:33 min)
Directed by Ryan Long
Realizing that crayons and paper are too small for her thoughts, a little girl takes up another medium.

REALITY

?

(18:00 min)
Written and Directed by Jordan Fountain
James, an 18-year-old telemarketer was unsatisfied with his life. He was tired of his crap boss, annoying co-worker, and bland routine. One night, he started to have these dreams, these separations from reality that showed him the limits of time, fate and space. Follow James through his life changing quest to answer the question, What is Reality?

ESPERANZA
(12:00 min)
Directed by Tim Guthrie
Executive Produced by John O'Keefe
Head Writer Carol Zuegner
Videographers/Video and Sound Editors – Rachel Belsha, Morgan Braaten, Amy Engle, Peter Freeze, Emily Hanigan, Jen Houston, Rachel Johnson, Gaby Mock, Scott Peak
A mini-documentary primarily filmed and edited by Creighton Students. The mini-doc follows Pedro Almonte and the work he has done with the community of Cien Fuegos in the Domincan Republic.

THAT'S
WHAT

IT

TAKES

(5:50 min)
Written and Directed by Chris Lofing
Produced by Mitesh Mirchandani, Chris Lofing
Starring Muneesh Sharma, Stephen Jahn, Vera Taylor, Noah KP, Austin Mensh, Samantha Hamadeh
One man sets out to swindle money with a brain cancer donation hoax, but he soon finds himself tangled in a tug of war between right and wrong when he is forced to choose between his tropical romantic getaway and people who are in need.



(Intermission)
 
2:30pm
LIGHT
AND
GET
AWAY
(11:19 min)
Written and Directed by Wade Lux
Produced by Caleb DeWitt
Starring Ellie Craig, Nathan Johnson
Strange things are happening in America's breadbasket. A young couple flees an unknown incident via 4-cylinder on the 4th of July as the story goes back to their baby-centric conversation from the day before.

TAKING
THE
ROAD
(7:30 min)
Written and Directed by Natalie Covault
Produced by Aaron Sawyer
Starring CC Ice, Nic Roewert, Nathan Weiss, Jeff Tinnean, Bill A. Jones
Set in the 1950's, newlyweds Judd and Jessica snap photographs of their honeymoon driving across the country. When the impulse to pick up a hitchhiker gets the better of them, Judd and Jessica are forced into an extreme situation if they hope to continue down the road that lies ahead.

IRMA
(12:30 min)
Directed by Charles Fairbanks
Starring Irma Gonzalez
Irma is an intimate musical portrait of Irma Gonzalez, the former world champion of women's professional wrestling. Filmed in Ciudad Nezahualcoyotl – a notorious district of Mexico City – Irma contradicts everything we have come to expect from stories reported from Mexico. Featuring music written and performed by Ms. Gonzalez, Irma's story surges with love and deceit, masculine strength, feminine charms, and an extraordinary sense of humor.

POT
LUCK
(11:59 min)
Written and Directed by Ryan Long
While attending a friend's birthday, Will hits it off with an attractive party crasher. Unavoidably side tracked his "quick" trip to the restroom turns out to be anything but. With little time left before she leaves, Will discovers that there are worse things than single ply.
---
Please support our sponsors
Sponsors Wanted
See your logo here

If you are interested in supporting this event please click here find out more.
Thanks to...